Welcome to #RazHerUpMonday, where we will be featuring some extraordinary women in business. Every Monday we will be featuring a "razher" sharp woman, a woman who is strong, successful and constantly "razing" the bar in their industry.
This week we will be featuring Jules Vertrees, the president and co-founder of Verve Culture.
Jules founded Verve Culture with her mother, Jacquie Lewis in 2016 with the goal of catering to the environmentally and socially conscious buyer. They have worked together for 27 years in the gift industry, and after becoming disappointed with mass produced products, they started looking for more unique products that mean something to them. The mother-daughter duo, along with Vice President of Operations, Sarah Laping Garland, work with artisans and communities around the world to craft household items and tools rooted in the traditions and heritage of local makers. They strive to always be respectful of the people and cultures who create their items. Their goal is to inspire their customers to make ethical, sustainable purchases that promote safe working conditions and authenticity of craft.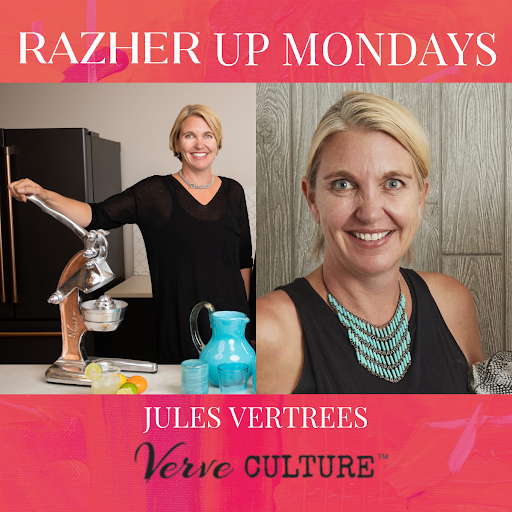 The team, who have all been interested in people and cultures and who have all traveled extensively, realized that they can show their love for exploring cultures through offering products that enhance the experience that their customers are looking for. They have been able to find their niche within many of today's consumers, especially millennials, that make environmentally conscious and socially aware purchasing options. 
Jules and her team have grown Verve Culture to be a very successful business while also sticking close to the things they are passionate about. Jules is involved in all aspects of their business, from product development to developing relationships with retailers like Sephora, Urban Outfitters and other large department stores. Verve has helped to grow brands to revenues of over $15 million and they are always exploring new ways to mix their passions into a new adventure.
Jules wishes she was told these five things before starting her career (via Authority Magazine):
It's a Man's world

— Jules grew up in a family where men and womens' opinions were valued equally. It came as a shock when the corporate world did not operate the same way.

Women can be bitches

— We are all trying to climb that ladder and Jules has seen that some women think there are limited seats at the table for women so they choose to compete with other women instead of working together..

Get rid of a bad egg immediately

— Hire slowly and fire quickly. Don't let cancer fester. Jules has tried to turn a bad situation around even when she knew there was no hope.

Laughter is imperative

— Laughter is proven to reduce stress, so Jules tries to inject humor whenever possible. 

Trust your intuition

— Listen to your heart and trust your gut. She knows when she meets an artisan supplier that will rock our world.
"Our vision is to explore the cultural richness of artisans and communities around the world – to educate and inspire, while honoring the traditions and heritage of their work." - Jules Vertrees
Jules is a great inspiration for women or anyone who wants to create a successful business without losing sight of what inspires them. We're glad to feature her on #RazHerUpMonday!