Sonia has an extensive background in the fashion and hospitality industries. She started working as a model and has always gravitated toward show production, specifically the behind the scenes - making sure everything gets done and runs smoothly.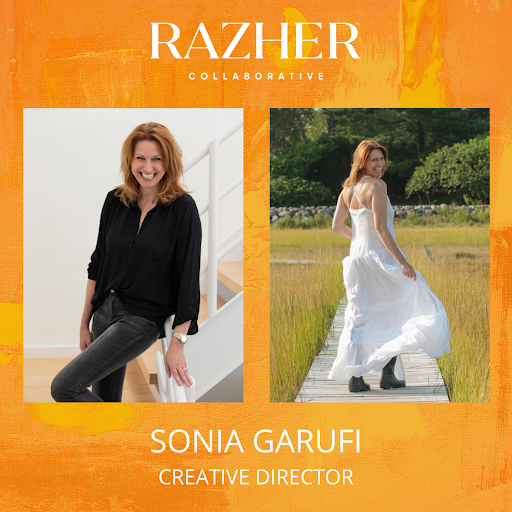 Sonia loves working with creatives, from photographers, to designers, she has always been excited to see their visions come to life and has enjoyed helping them create unique experiences for their clients. She has also always had her foot in the restaurant industry. She ran two successful, family owned restaurants for 15 years. Like show production, she loved the behind the scenes to restaurants, creating special events and memories for her guests.  
As her kids got older, she realized that she wanted to switch gears, but was not sure which direction to go in. She started doing social media for Alan Rouleau Couture and now is his showroom manager. She has also reentered the modeling world as a mature model with Maggie Agency, where she does fashion shows, print and commercial work.
Sonia began working part-time with Kristen Standish at Grapevine Village, and was then asked to come on board to join her at RazHer! When asked why she joined RazHer, her response was:
"I firmly believe in 'it takes a village'. I learned that while 'razing' my children -  my daughter Sophia (Senior at Ryerson University in Toronto) and my son Anthony (Freshman at Champlain College). With my son, I had a different route in raising him than I did with my daughter, as he was diagnosed with high functioning autism. Quickly, I learned that having support behind me helped me become stronger in advocating for him and once I knew I had an army of amazing women behind me, I knew I could do anything for him and other special needs children. If I don't have the answer, I'll get in touch with someone who does. I believe this also applies to work; supporting and connecting people together and being able to see their dreams grow is amazing. I just love being part of it!"
Some fun facts about Sonia: 
She is on the board for several charity organizations - Our Girl Linda, which raises money for St. Jude Children's Research Hospital - ALSAC, Gilded: The Art of the Healing, which is an organization for trauma survivors, Verma Foundation which makes cap wigs for cancer survivors. She served on the Boston Public Schools Special Education Parent Advisory Council.
She loves traveling, enjoying new experiences and finds any excuse to have a dance party. "Life may not be the party we hoped for but while we are here we should dance!"
She was born in England to a Polish father and a Russian mother. Sonia ended up moving to Canada at age two and grew up in Toronto. When it came time to attend college, she went to McGill University. After graduating, she moved to Boston because she loves New England and all it has to offer, from skiing in the winter to going to the beaches in the summer!