Welcome to #RazHerUpMonday, where we will be featuring some extraordinary women in business. Every Monday we will be featuring a "razher" sharp woman, a woman who is strong, successful and constantly "razing" the bar in their industry.
This week we will be featuring Shellee Mendes, an extraordinary woman who has overcome many obstacles thrown her way to become a successful entrepreneur and business owner of Salon Monet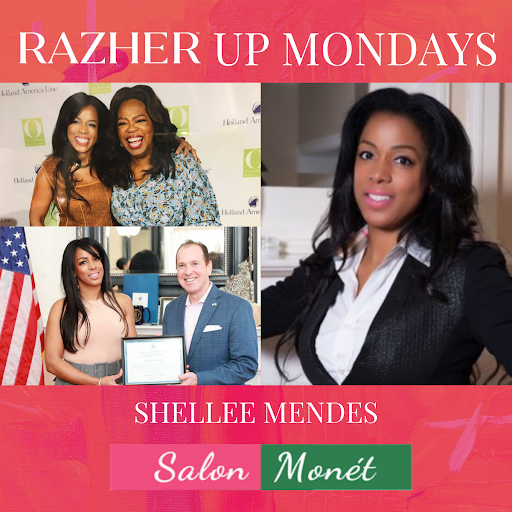 Shellee is the founder and owner, as well as a stylist at Salon Monet, an award winning full-service hair salon in Boston, Massachusetts, offering services such as keratin treatments, precision cuts, highlights & color, braids, perms, relaxers and extension services. 
Shellee has had to work extremely hard to get to where she is today. While living in a homeless shelter as a single mother, Shellee worked full-time and put herself through cosmetology school - not losing sight of her dreams.
Today, Shellee owns a renowned salon and is the only black hair salon owner on Newbury street. She has celebrity clientele and even has clients flying in from the west coast for her services.
When she is not at the salon, she spends her time as an inspirational speaker (she was an amazing guest panelist at our launch event!) and a philanthropist for many women, children and family causes. Shellee also leads conferences, one of them has been on "Race, Hair & Working Women" that focuses on the issues around "race and hair" in the workplace.
Shellee has been the recipient of awards such as the Target Storyteller Award for her "tireless work to give back to her community and lift women up throughout her life and career." She has also been honored with the Commonwealth's Certificate of Appreciation for "her tireless work to establish and continue for 20 years a thriving business in the heart of Boston as well as her commitment day in and day out to helping those in need and giving back to the community."
She also had the opportunity to go on a cruise with Oprah and sit down and have dinner with her. It is not hard to be moved by Shellee's story, but when Oprah is moved, you know you've achieved something great!
"Follow your dreams. There is nothing you can't achieve if you dream big and work hard!" - Shellee Mendes
Shellee is not looking back and we see only more success in her future! She is a huge inspiration for women and we're glad to feature her on #RazHerUpMonday.