Every Monday we will be featuring a "razher" sharp woman, a woman who is strong, successful and constantly "razing" the bar in their industry.
This week we will be featuring two "razher" sharp women, Julia Rodgers and Sarabeth Jaffe, co-founders of HelloPrenup.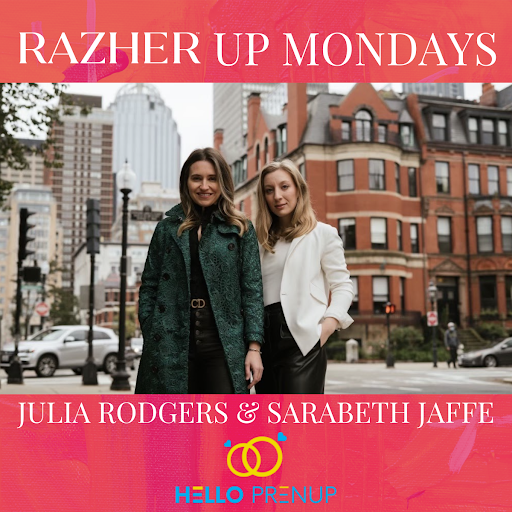 Julia Rodgers, co-founder and CEO, married her husband back in 2019 and during the process, realized she could not find an easy online prenuptial agreement. As an attorney herself, she knew the importance of having one in place, so she teamed up with software engineer and now co-founder and CTO, Sarabeth Jaffe to build Hello Prenup. 
Hello Prenup is the first digital platform to allow couples to make prenuptial agreements in hours instead of months and for a fraction of the cost it would be with a traditional attorney. There are no other online platforms that allow for a fully automated prenuptial agreement with a seamless process like they do.
According to the founders, a prenuptial agreement can feel like a juxtaposition after going through an engagement to then deciding what to do if you divorce. They created Hello Prenup to allow their clients to become more involved in the agreement, while also allowing them to hire an attorney to advise and/or represent them during the process. 
CEO, Julia Rodgers says that Hello Prenup was "created by women, with women in mind" because it is "no secret that women's finances are more negatively impacted by divorce than that of their husband's. Men earn more than women in every country on earth, and in the year 2020, the gap between the median salaries of working men and women in the United States was about 80 cents earned on the dollar for every dollar earned by a man. Once women have children, that number drops to 71 cents for every dollar a man makes. This is often referred to as the 'motherhood penalty,' despite the fact that women make up 57% of undergraduate degrees, and 59% of master's degrees."
Julia and Sarabeth had the opportunity to pitch their business on Shark Tank ABC. And not just one shark bit, but two! Nirav Tolia and Kevin O'Leary agreed to invest $150,000 for a 30% stake in the company. Check out their appearance online and check out their website if you are considering getting married any time soon!
We love the work that Julia and Sarabeth do to protect the financial future of other women, they inspire us and we're glad to feature them on  #RazHerUpMonday.